Meet Sweats + The City Girls
Summer is here and bikini weather has finally arrived. It's never too late to start your summer workout goals and what better way then to get to know Elizabeth and Dale from Sweats + The City. These two girls are the ultimate inspiration for getting into shape and healthy eating.
How did Sweats + The City come about?
We started off as roommates (still are, and actually went in as a blind setup) and quickly realized we both had a passion for boutique fitness. We would often end our days by coming home and eating a healthy bite together while we discussed classes we'd taken that day - every detail, including what we did and didn't like. We decided to blog about these classes after we realized these tidbits would be useful for other people in the city just like us, who wanted to avoid blindly entering a workout. So that's basically how Sweats + The City came about!
What type of workout is your favorite?
DB: I love megaformer pilates. It burns so good!
EE: Anything that mixes cardio and sculpting - Barry's Bootcamp is a perfect example!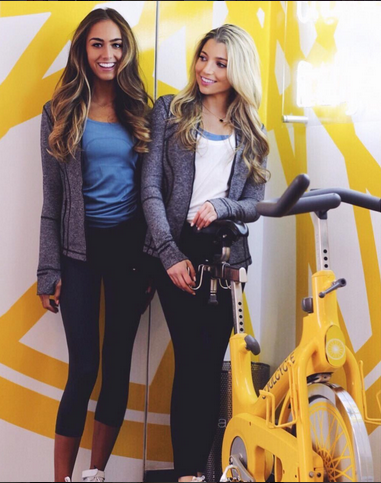 Where are your go-to workout places in NY?

Barry's Bootcamp, Mile High Run Club, SLT, Physique 57, SoulCycle, Switch, Rumble, Shadowbox, the list goes on and on!
What is your pre/post workout meal?
Before a workout we like to keep it light; something like half a banana with almond butter, or half an RX bar if we're on the go! Our post-workout meal depends on the time of day. If it's a morning workout, our go to is a Siggi's yogurt with berries, Paleo Passion Foods granola + almond butter. For PM workouts, we try and stick to a lean protein like salmon or ground turkey and mix it with a different vegetable - we've recently been loving zoodles with tomato sauce!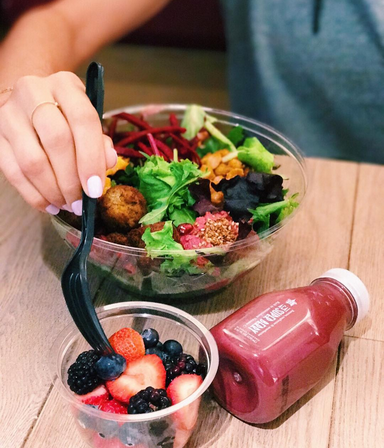 Where are some of your favorite places to eat?
Sweetgreen, Westville and Hu Kitchen. We're obsessed with these spots for healthy eats. We particularly like how all three are paleo friendly, as we've been recently attempting the Whole 30.
What are some of your favorite healthy snacks that everyone should try?
We like to stick to whole foods when snacking, that way it's guilt free. Apples with almond butter, raw almonds, kale chips and carrot sticks are some of the best. For packaged snacks, we like Fuelgood Protein drinks, RX Bars and Lara Bars.
What is on your workout playlist?
We NEED good music to work out! We actually have a spotify playlist called Sweats Run that's full of our favorites (link below). We both love working out to anything by Kygo.
What advice would you give to girls who want to get into better shape (summer bodies)?
First, make slow, achievable changes. Often, people go from 0 to 100 and burn out because they've approached the diet or "new lifestyle" too aggressively. Exercise-wise, we believe it requires a mixture of strength training (to tone) and cardio (to sweat and burn cals) consistently in order to challenge your body enough. People who do the same workout over and over plateau. Also, cutting down on added sugars is essential, and not just white sugar - honey, maple syrup and agave are to be avoided, too!