MY HALLOWEEN MAKEUP
This past Halloween I pulled together 3 different costumes and 3 completely different makeup looks. From minimal to the overly dramatic, I spill all my beauty secrets and how to recreate my looks. I do love Halloween makeup and although I am always pinning away the craziest Halloween looks, my makeup talent is far from creating a masterpiece. My makeup looks are easy and achievable for even the most basic of artists : ) Check out the inspiration behind all my looks.
BEYONCÉ
M.A.C retro matte liquid lipcolour in High Drama is the perfect lip color for that dark and moody look. I used the primer first to prevent the color from drying out my lips. The lipcolour stays on for so long. I didn't even bother doing my eyes because the hat comes so far down. (haha)
I have had this picture pinned on my Pinterest for so long. I finally was able to use it and I couldn't be happier. I used a combination of a solid eyeshadow that I made into a liquid as well as some actual glitter. Victoria Beckham eyeshadow for Estee Lauder is literally the best eyeshadow that comes as a powder but with some water it turns the dial way up on this eyeshadow. With a dab of water on a brush the eyeshadow becomes metallic and pops. Shop below my exact eyeshadow. On top of the blue eyeshadow, I had used Pat McGrath gold 001 collections, as an eyeliner to make my eyes really stand out. As crazy as it may sound vaseline or any chapstick (glossier dot com) acts as a glue for glitter. I swiped my lips first with chapstick and then used a brush to apply the glitter on top. Who doesn't love glitter? You will sparkle all night in this look.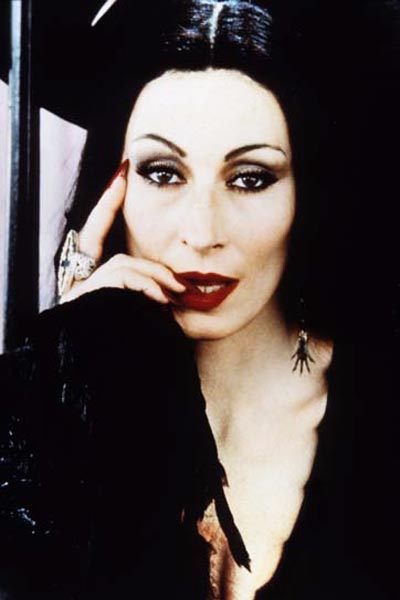 You can probably guess that I was wearing a wig. I did not go the lengths of doing temporary dye or anything. I used black eyeshadow on my eyebrows to change the color. The YSL beauty Eye Smoker Duo comes with two shades on either end, a silver and darker metal shade. It goes on so smooth and doesn't dry weirdly or sticky. Swipe on some red lipstick, mine was from Armani (shop below) and all you will need is your own Gomez. Da Da Da Dum (Snap Snap)
I received some of these products complimentary from M·A·C Cosmetics and from Yves Saint Laurent Beauty USA. All opinions are 100% my own #gifted #honestreview #octolyfamily.